Note: These pages are intended to provide considerations specific to clinical practices for audiologists and speech-language pathologists. They do not constitute legal advice. The intent is not to encourage in-person services or the use of specific procedures. Referring to the CDC, WHO, and other scientific sources of information can provide workplace guidance for general office settings, and most employers and work settings will have their own guidance for you to follow based upon local, state, and federal regulations. This list is not intended to be exhaustive and will be updated as additional information and opinions become available.
Resuming In-Person Services During COVID-19 Overview
Audiologists and speech-language pathologists (SLPs) have been providing a range of services during the COVID-19 pandemic. Many professionals in clinical practices and health care settings have continued to provide in-person services, but others have limited or ceased in-person services or specific procedures. Audiologists have focused on the continuation of newborn hearing screening, ototoxicity monitoring, and assessment for sudden hearing loss but have limited those services that are not deemed critical for communication needs. For SLPs, cessation or limitations around aerosol-generating procedures has occurred due to the higher risk of COVID-19 transmission. Some audiologists and SLPs have made the transition to telepractice and "curbside" service provision to honor physical distancing measures. A state of national emergency has been in effect since March 13, 2020. However, as of May 20, 2020, all states have started to ease stay-at-home restrictions, and some audiologists and SLPs are returning to in-person practice or returning to the provision of the full scope of practice.
Employers want to hold paramount the safety of employees as well as the individuals and families whom they serve. Local, state, and federal regulations vary, and there is no "one-size-fits-all" approach for each work setting. ASHA provides general information on Using Masks for In-Person Service Delivery During COVID-19. The Occupational Safety and Health Administration (OSHA) publication, Guidance on Preparing Workplaces for COVID-19 [PDF], provides guidance on workplace preparedness. The Centers for Disease Control and Prevention (CDC) has published Reopening Guidance for Cleaning and Disinfecting Public Spaces, Workplaces, Businesses, Schools, and Homes that includes Cleaning and Disinfecting Your Facility, and FEMA has released Planning Considerations for Organizations in Reconstituting Operations During the COVID-19 Pandemic.
There are other factors to consider when making your decision regarding resumption of the full range of audiology and speech-language pathology practices and procedures. We discuss those factors in the text that follows.
Hierarchy of Controls
The National Institute for Occupational Safety and Health (NIOSH) uses what it calls the Hierarchy of Controls to help determine ways to implement workplace protections.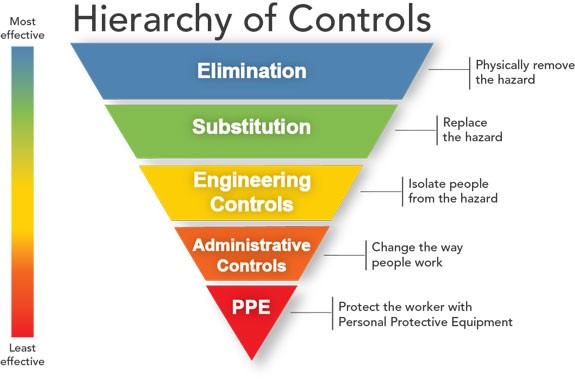 Source: Centers for Disease Control and Prevention: National Institute for Occupational Safety and Health
The controls at the top are considered more effective at protecting workers than those at the bottom. In light of this framework, audiologists and SLPs may consider the following precautions for clinical practice:
Elimination and Substitution
Consider continuing the use of telepractice instead of or in addition to in-person services depending on client needs, whenever possible.
Perform procedures that present a higher infection risk (e.g., aerosol-generating procedures – ASHA's Aerosol Generating Procedures) with additional caution.
Use physical distancing measures, as appropriate.
Engineering Controls
Consider creating physical barriers between clients/patients and clinicians (e.g., plexiglass screens).
Provide services outside, when possible.
For those who have tested positive for COVID-19, provide services in separate physical spaces.
Administrative Controls and Personal Protective Equipment (PPE)
The considerations on ASHA's Getting Your Facility Ready to Resume Services During COVID-19 webpage address administrative controls and PPE in audiology and speech-language pathology work settings. Recognize that these controls are less effective in stopping the spread of infection and protecting workers than elimination, substitution, and engineering controls.