Gelmix + Purathick, by Parapharma Tech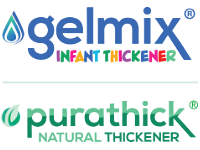 Providing USDA organic thickeners for infants, children and adults with swallowing difficulties, Parapharma Tech is dedicated to improving the quality of nutrition and quality of life for people with dysphagia.
We offer free samples and education for healthcare professionals. Learn more and sign up to receive samples today!
Gelmix Infant Thickener for Breast Milk & Formula
Gelmix thickens breast milk and infant formula, facilitating the retention of nutrients of infant feeds when thickening is recommended for normal spit-up and swallowing difficulties. Thickening feeds is a first line therapy approach in the treatment of gastroesophageal reflux, as well as the most successful feeding intervention associated with improved outcomes for children with oropharyngeal dysphagia.
Hypoallergenic, USDA Organic, Kosher, GMO Free
Tasteless, odorless, & smooth
Does not break down enzymes in breast milk
Can be used with most infant formulas
Great alternative to cereals
For use with term infants over 6 pounds (if born preterm, 42 weeks PMA)
Purathick Natural Thickener for Hot and Cold Liquids
Purathick thickens hot and cold liquids, and food, for adults and children with swallowing difficulties. Purathick is a natural, non-starch alternative to traditional thickeners, great for people with food sensitivities.
Hypoallergenic, USDA Organic, Kosher, GMO Free
Better for people with food sensitivities
No Corn, No Xanthan Gum
Tasteless & Smooth Mouthfeel, Not Gritty or Slimy
Does not over-thicken with time
For use with adults and children 12 months +
Website: https://www.healthierthickening.com
Certifications: USDA Organic, Kosher Organics
Phone Number: 866-950-7278
E-Mail: contact@healthierthickening.com