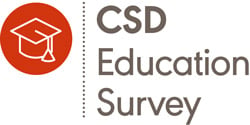 The CSD Education Survey is a joint effort between the Council of Academic Programs in Communication Sciences and Disorders (CAPCSD) and ASHA. The survey is fielded annually to over 350 institutions offering undergraduate through PhD academic degree programs and collects data on CSD education, including information on program and institutional features, applications and admissions, enrollment, graduation and employment, and grants. The 2023 CSD Education Survey will open August 1 and close October 31, 2023, and will collect data for the fall 2022 to summer 2023 academic period.
Benefits
CAPCSD and ASHA strongly encourage every institution that offers degree programs in CSD to complete the survey annually because:
Data from the survey are used to create institutions' program profiles in EdFind, ASHA's online directory of CSD degree programs. Many potential students rely on EdFind to search for programs that best fit their interests and needs.
Data from the survey are used to assess trends in CSD education and the education-career pipeline. Participation in the survey ensures that quality data are collected.
Data from the survey are used to publish national and state reports on CSD education, which are made available to the public and are used for important program decision-making.
Schedule
The annual survey is typically open from August to October.
Data collected are for the most recently completed academic year.
Reports on the data collected are published annually in late spring.
Resources
Questions about the CSD Education Survey and EdFind should be sent to CSDEducationSurvey@asha.org.