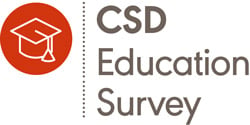 ASHA and the Council of Academic Programs in Communication Sciences and Disorders (CAPCSD) invite institutions with undergraduate and graduate programs in communication sciences and disorders (CSD) to participate in the annual CSD Education Survey to collect data on CSD education. The data collected are reported in national, trend, and state aggregate data reports.
National Aggregate Data
The CSD Education Survey National Aggregate Data Report [PDF] is available for the academic year 2021–2022. This report provides data on applications, admissions, enrollment, graduation, employment, faculty appointments, and other important CSD academic program data.
Trend Data
The CSD Education Trends Report [PDF] is available for the academic years 2010–2021 and assesses trends in undergraduate, clinical graduate, and research doctoral education as well as faculty appointments.
Data-At-A-Glance
The following Data-At-A-Glance series provides a quick reference for key information about admissions, enrollment, and degrees granted by area of study for the academic year 2021–2022:
State Aggregate Data
Individual State Aggregate Data Reports are available for the 2021–2022 academic year by e-mailing CSDEducationSurvey@asha.org.
Note: Alaska does not currently have any CSD academic programs.
To view prior survey reports, please contact ASHA at CSDEducationSurvey@asha.org.