Missed the event?
Watch the video
or check out the
slides
[PDF] from the 2021 ASHA Schools Virtual Town Hall.
2021 Virtual Town Hall: Strategies to Address Workload
The fourth installment of the virtual school town hall series was held on October 27, 2021. Panelists shared resources, success stories, and strategies regarding workload management so attendees would be able to:
identify and use ASHA workload resources [PDF] such as the Caseload and Workload Practice Portal page, Workload Calculator, Workload Analysis Calculator, and Workload Action Plan;
analyze current workload responsibilities and formulate a plan to address unique workload challenges; and
decide next steps to address workload responsibilities and determine which school- and district-level decision makers to partner with to effect change
Past Events
2020 Virtual Town Hall: Service Delivery During COVID-19
The 2020 ASHA Schools Virtual Town Hall was held April 13, 2020. Watch a video of the Town Hall.
2019 Virtual Town Hall: Attract, Prepare, and Retain School-Based SLPs
The 2019 ASHA Schools Virtual Town Hall, the second installment in the town hall series, featured a moderator and panel to address the need to expand the school-based SLP workforce. The panel presented innovative strategies and solutions to attract, prepare, and retain school-based SLPs.
View the town hall slides [PDF] and listen to the recordings:
2018 Virtual Town Hall: Issues Faced by School-Based Members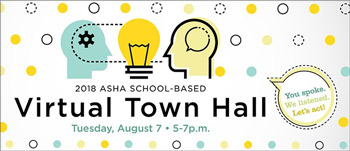 The 2018 ASHA Schools Virtual Town Hall meeting was held on Tuesday, August 7, 2018, and discussed a number of longstanding issues:
Diminishing school funding and accompanying personnel shortages
High caseloads
Excessive paperwork and documentation
Limited ability to vary service-delivery methods
The town hall slides are available [PDF] and the recordings of the town hall are below:
If you have questions about the town hall series, please contact ASHA's Schools Services team at schools@asha.org.