Strategies to Address Workload in Schools
October 27, 2021
6:30–8:00 p.m., ET
One of the long-standing challenges for school-based speech-language pathologists (SLPs) continues to be workload management. To support our school-based members with workload issues, the ASHA School Services team will host the fourth edition of our virtual school town hall series titled "Strategies to Address Workload in Schools." This event takes place on Wednesday, October 27, from 6:30 to 8:00 p.m., ET, via Zoom. Our panelists will share ASHA resources and success stories of school-based practitioners and administrators. Audience members will have the opportunity to ask questions about strategies and practical solutions to address their unique challenges.
The panel includes the following individuals:
Christina Bradburn, MS, CCC-SLP; Speech-Language Pathologist/Educational Diagnostician, Shelbyville Central Schools, Indiana
Verna Chinen, MS, CCC-SLP; Educational Specialist, Hawaii Department of Education's Special Education Section; part-time Clinical Educator, University of Hawaii Department of Communication Science and Disorders
Dawn Merth-Johnson, MA, CCC-SLP; Speech-Language Pathologist, Iowa-Grant School District, Livingston, Wisconsin; ASHA State Education Advocacy Leader Champion for the Midwest region
Linda I. Rosa-Lugo, EdD, CCC-SLP, ASHA Fellow, BCS-CL; Associate Dean, College of Health Professions and Sciences, University of Central Florida; ASHA Vice President for Speech-Language Pathology Practice
Tanya Shores, EdD, CCC-SLP; Director of Special Education, Seminole County Public Schools, Florida
Tiffany White, MEd, CCC-SLP, CAS; ASHA Director, School Services Team; Moderator
After attending this town hall, the learner will be able to:
identify and use ASHA workload resources such as the Caseload and Workload Practice Portal page, Workload Calculator, Workload Analysis Calculator, and Workload Action Plan;
analyze current workload responsibilities and formulate a plan to address unique workload challenges; and
decide next steps to address workload responsibilities and determine which school- and district-level decision makers to partner with to effect change
This town hall is open to ASHA school-based SLPs and meets the ASHA Clinical Certification Standards defining professional development as an instructional activity. Attendees can earn 1.5 professional development hours (PDHs) for attending the entire live session. PDHs cannot be earned for watching the recording of the event.
The 1.5 PDHs obtained from attending this town hall are not an ASHA continuing education unit (CEU), per se, but can be applied toward ASHA certification maintenance. It is the attendee's responsibility to determine whether the PDHs can be applied toward state licensure renewal as determined by their individual state licensure board. A downloadable certificate of completion will be distributed to all participants at the end of the event.
Past Events
2020 ASHA Schools Virtual Town Hall
The 2020 ASHA Schools Virtual Town Hall was held April 13, 2020, and focused on service delivery during COVID-19. Watch a video of the Town Hall.
2019 ASHA Schools Virtual Town Hall: Attract, Prepare, and Retain School-Based SLPs
The 2019 ASHA Schools Virtual Town Hall, the second installment in the town hall series, featured a moderator and panel to address the need to expand the school-based SLP workforce. The panel presented innovative strategies and solutions to attract, prepare, and retain school-based SLPs.
View the town hall slides [PDF] and listen to the recordings:
The moderator for the event was Judith K. Montgomery, PhD, CCC-SLP, 1995 ASHA President and Editor-in-Chief for Communication Disorders Quarterly. The panel of experts included:
Charles H. Carlin, PhD, CCC-SLP, associate professor and graduate program coordinator at The University of Akron of Ohio
Katherine A. Hoffman, MS, CCC-SLP, Arizona Superintendent of Public Instruction for the Arizona Department of Education
Jerrold Jackson, MA, CCC-SLP, owner and Special Services Director of Roundtree Group, PLLC which provides consultation, mentoring, speech-language, assistive technology and educational evaluation services to a variety of agencies
Joneen Lowman, PhD, CCC-SLP, associate professor in the Department of Communication Sciences and Disorders in the College of Health Sciences at the University of Kentucky, and former special education teacher and school speech-language pathologist
Jeffrey C. Meeks, EdD, CCC-SLP, Director of Special Education for Holbrook Unified School District in northeastern Arizona, and Assistant Clinical Professor and SLPA Certificate Coordinator at Northern Arizona University
John T. Riley, MA, Senior Policy Analyst in the Education Policy & Practice Department at the National Education Association (NEA)
Laurie VanderPloeg, MA, Director of the Office of Special Education Programs (OSEP), in the Office of Special Education and Rehabilitative Services (OSERS), at the U.S. Department of Education
2018 ASHA Schools Virtual Town Hall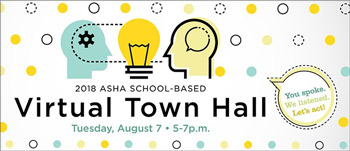 The 2018 ASHA Schools Virtual Town Hall meeting was held on Tuesday, August 7, 2018, to discuss the following longstanding issues faced by school-based members:
Diminishing school funding and accompanying personnel shortages
High caseloads
Excessive paperwork and documentation
Limited ability to vary service-delivery methods
The town hall slides are available [PDF] and the recordings of the town hall are below:
The moderator for the event was Gail J. Richard, PhD, CCC-SLP, ASHA's Immediate Past President. The following are the panel of experts who provided feasible solutions to the concerns and questions from school-based members who registered for the town hall:
School-Level Decision Makers

Ann Allen, Masters, Educational Administration; Middle School Principal, California
Jennifer Van Tress, M.S., Speech Pathology; Elementary School Principal, Nevada

District-Level Decision Makers

Lou Malerba, MA, CCC-SLP; Former Assistant Superintendent for Special Education, New York
Richard Fry, EdD, Educational Leadership; Superintendent of Schools, Pennsylvania

State-Level Decision Makers

Evelyn Dixon, MS, CCC-SLP, Ed.S., Curriculum and Instruction; Education Program Specialist, Georgia
Marie Ireland, MEd, CCC-SLP, BCS-CL; ASHA's Vice President of Speech-Language Pathology Practice; Specialist, Virginia

Union Representative

Carol Fleming, MS, CCC-SLP; ASHA Fellow; Speech-Language Pathologist, NEA Director, Arkansas
If you have questions about the town hall, please contact ASHA's Schools Services team by e-mailing schools@asha.org.