This program was initially conducted live as part of ASHA's Supervision Symposium, held on July 25, 2017, where supervisors and supervisees from various academic, educational, and health care settings came together to learn about the supervision process from A to Z.
The session, "Knowledge, Skills, and Competencies for Supervision," explores how supervisors can grow through critical reflection and goal setting. It was collaborative and involved small group discussion. You may wish to view this session with other supervisors and discuss it together, or you may complete it individually.
The session comes with a comprehensive workbook for note-taking and application of content.
Knowledge, Skills, and Competencies for Supervision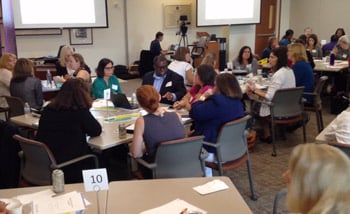 Feedback and reflection is a key component of professional growth—for supervisees and supervisors. Self-assessment plays a vital role in improving the skills of clinical educators, preceptors, mentors, and supervisors, and this course will provide the opportunity for clinicians to explore their own competencies in supervision based on the results of a self-assessment tool. The course will discuss specific competencies from five overall knowledge and skill areas and give participants the opportunity to brainstorm and share scenarios. Participants will walk away with specific goals to improve their knowledge, skills, and competencies in supervision.
Learning Outcomes
After completing this video, you will be able to:
describe how critical reflection supports the professional growth of both the supervisee and supervisor
develop self-directed goals to improve identified competencies in supervision
What's Covered?
Critical thinking and critical reflection
Self-evaluation of skills and abilities, using the "run, grow, transform" model
Setting SMART (specific, measurable, attainable, relevant, time-bound) goals for continued development in supervision
Faculty
Melanie W. Hudson, MA, CCC-SLP, Director, EBS Healthcare
Course Information
Continuing education credits: 0.1 ASHA CEUs (1.0 PDHs)
Dates: 2017–July 26, 2021
Type of Course: Self-study video
Instructional Level: Intermediate
Content Area: Related
This course is available as part of the ASHA Learning Pass and for purchase on the ASHA Store.
Related Courses
For additional ASHA-created courses on supervision, visit the ASHA Learning Pass or ASHA Store.