ASHA Teaching Symposium on Foundational CSD Science Courses
May 17–May 28, 2021 | Online Conference
At this online conference you can earn up to 1.45 ASHA CEUs or 14.5 professional development hours (PDHs). The number of units that you earn is based on the number of sessions that you complete and the number of live webinar chats that you attend.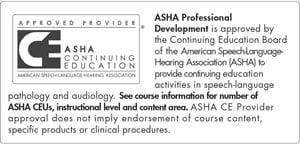 Sessions
Recorded sessions are available on demand while the conference is in session. You may listen to them at any time that fits your schedule. Each lecture is planned to be approximately 1 hour long with a few exceptions. The exact duration of each lecture will be posted on the conference site.
Live Chats
Each live chat session is 1 hour long. You must register to attend each of the live webinar chats. Links to register for each webinar chat will be sent via e-mail to Teaching Symposium registrants starting May 3. Those who have registered for the live webinar chats must be logged in for the full hour to receive credit for attending a live chat. You do not need to post a question to receive credit but you must be online.
For this online conference, if you are unable to register due to capacity limitations or attend the live webinar chat, you may earn credit for listening to the recording of the webinar chat and/or reading the transcript of a live chat. We encourage participants to attend live if at all possible, but if you have a schedule conflict or are unable to register to attend a live chat due to capacity limitations, please post a question on the discussion board and then read the chat transcript before the last day of the conference. You may claim credit whether your question is addressed or not.
Bonus!
Since the conference is packed with great information, you will have access to recorded sessions, chat transcripts, and discussion boards for 1 year (through May 31, 2022) after the conference ends! During this extension, use the archived information for reference only—sorry, continuing education credit cannot be earned after the conference ends on May 28, 2021.
In addition, registrants will have the opportunity (through the conference site) to participate in a year-long learning community for networking, discussions, and sharing information about the application of evidence-based course design and teaching principles during the 2021–2022 academic year.
Reporting Your Attendance
You must enter your activities in the ASHA Learning Center to receive credit. We encourage you to report your activities after each session, but you may enter all of your activities at once if you prefer. Activities must be reported no later than 11:59 p.m., Eastern Time, Tuesday, June 1, 2021. Please be aware that if you register after the start of the Teaching Symposium on May 17, 2021, that it may take up to 24 hours after registration to claim your ASHA CEUs in the ASHA Learning Center. If you need a record of the activities in which you participated—or if you think you may need a record in the future—you must report for credit by June 1, 2021.
The system will keep a running total of the activities you have reported, allowing you to track the number of hours accrued. The system will then convert your total hours to ASHA CEUs or PDHs, as appropriate. You can find detailed instructions for reporting your attendance inside the conference site. If you are a member of the ASHA CE Registry, credits will be reported to the Registry no later than June 15, 2021.
If you miss the reporting deadline because of an extenuating circumstance, see the ASHA Professional Development appeals process.
About CEUs and PDHs
ASHA CEUs and Eligibility
ASHA CEUs are awarded through the ASHA CE Registry to audiologists, SLPs, or speech, language, and hearing scientists. To receive ASHA CEUs, eligible persons must join the ASHA CE Registry. Learn more about the Registry.
Joining the Registry is optional. If you are eligible to earn ASHA CEUs, but choose not to join the Registry, you may track your own professional development hours (PDHs).