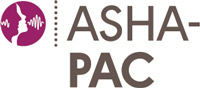 ASHA-PAC is the political action committee for the American Speech-Language-Hearing Association. A political action committee (PAC) is an organization representing a specific cause or interest that raises funds to support the political campaigns of key legislators.
ASHA-PAC provides financial support to candidate committees for the U.S. House and Senate that recognize the importance of audiology and speech-language pathology services and who demonstrate concern for the rights of all citizens to receive these services. Contributions are made to the ASHA-PAC by ASHA members and are entirely voluntary.
ASHA-PAC is registered with the Federal Election Commission (FEC). Under the oversight of the FEC, ASHA-PAC files regular reports detailing the financial activities of the PAC. ASHA-PAC complies with all federal laws and regulations governing its operations.
About ASHA-PAC
Questions about ASHA-PAC? Contact us at pac@asha.org.
Opportunities for Political Leadership
PAC Circle ($1 – $49 annually)
Membership ribbon at ASHA conferences
Access to PAC Insiders on ASHA's Community site
Capitol Circle ($50 – $99 annually)
All PAC Circle benefits
Information on the elections, including PAC webinars
Recognition on ASHA-PAC website
Gold Circle ($100 – $249 annually)
All Capitol Circle benefits
Complimentary registration to one additional PAC-sponsored event
Gold Circle membership pin
Platinum Circle ($250 – $499 annually)
All Gold Circle benefits
Two free drink tickets to use at any ASHA sponsored event at convention
Complimentary registration to all PAC sponsored events
Platinum Circle membership pin
Diamond Circle ($500 – $999 annually)
All Platinum Circle benefits
Reserved seating at ASHA's Opening Session and backstage access to meet the guest speaker
Recognition at onsite ASHA events
Receives an additional ticket to PAC sponsored events (for a guest to attend—total 2 tickets)
Diamond Circle membership pin
Champion's Circle ($1,000 – $5,000 annually)
All Diamond Circle benefits
Reserved seating for two at ASHA Honors and Awards event at Annual Convention
Complimentary registration for online CE conference (of choice)
Receives three additional tickets to PAC sponsored events (for guests to attend—total 4 tickets)
Champion's Circle membership pin