Share your passion and introduce students to careers in audiology and speech-language pathology
Promote the professions. Order today!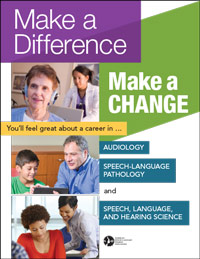 Love being an audiologist and/or a speech-language pathologist (SLP)? Share your passion, and introduce students to the communication sciences and disorders (CSD) professions with tools from ASHA. Our Make A Difference: Make A Change brochure series targets careers in academia, health care, and the schools. Order one or all three:
Make A Difference: Make A Change With a Career as a College Professor in CSD
Make A Difference: Make A Change With a Career in Health Care
Make A Difference: Make A Change With a Career as a School-Based Speech-Language Pathologist
You can use the brochures at career fairs, schools, places of worship, Boy Scouts or Girl Scouts meetings, health fairs, university open houses, private practice offices, career resource centers, or anywhere else that young people gather for information.
You can order the Make A Difference: Make A Change career kit, brochures, and posters for your career presentation. These engaging materials will help you share the feeling of personal satisfaction with your career choice and recruit bright, enthusiastic people into our professions— especially those who are bilingual, have a diverse background, are strong academically, and want to make a difference in the lives of others.
There is an increasing need for a more culturally competent workforce to respond to the growing and changing population of individuals. During the next decade, job growth for the CSD professions is expected to be faster than the average for other occupations, and we need you to help us identify qualified students to meet this expected demand.
You are in the perfect position to help students understand how fulfilling a career as an audiologist or SLP can be. Make a difference: Be the one who sets them on that path! Order today.
Diversity Recruitment Brochures
Now Available: Diversity recruitment brochures targeted to underrepresented students who are African American, Asian Indian, Asian Pacific Islander, Hispanic, and Native American. Help us show potential students the value of a CSD career.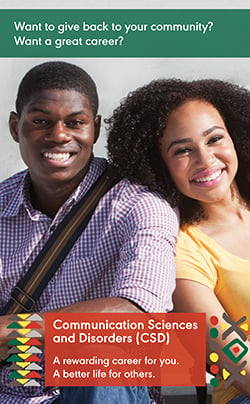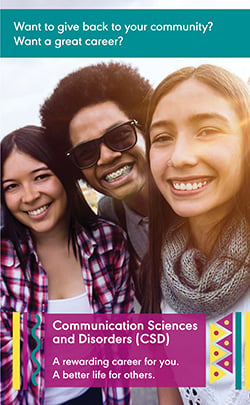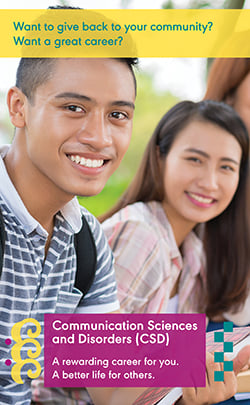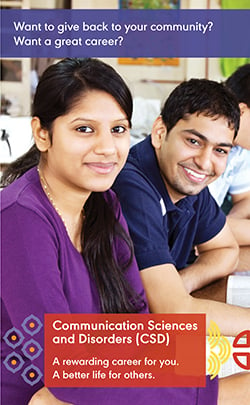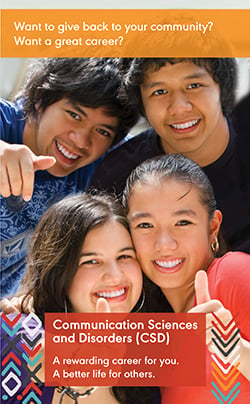 Add these brochures when you order the Make A Difference, Make a Change materials.