National Joint Committee for the Communication Needs of Persons with Severe Disabilities (NJC)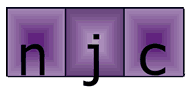 The Committee consists of members from the following organizations:
View contact information for member organization representatives.
The interdisciplinary composition of this committee reflects the pervasive importance of communication in all spheres of human functioning and across traditional boundaries. The shared commitment to promoting effective communication by persons with severe disabilities thus provides a common ground on which the disciplines represented by the member organizations can unite in their efforts to improve the quality of life of such persons.