The CEB develops the policies and procedures of the ASHA Continuing Education (CE) program. It comprises nine volunteer ASHA members and two monitoring vice presidents from the ASHA Board of Directors who serve as liaisons. The ASHA CE staff at the National Office implement the policies and procedures developed by the CEB. Nineteen ASHA CE staff directly support the CEB's work. The ASHA CE program:
Promotes participation in CE by audiologists and speech-language pathologists
Approves providers that meet CEB standards
Evaluates and registers CE courses offered by ASHA CE Providers
Awards ASHA Continuing Education Units (CEUs) to participants in registered courses
Issues official ASHA CE Registry transcripts
Transmits ASHA CEU information to credentialing and licensing agencies
Provides an Award for Continuing Education (ACE) as an incentive for participation in CE
Maintains a computerized recordkeeping service through the ASHA CE Registry
Tanya Shores, EdD CCC-SLP, Chair
Tanya is the Director of Special Education Services for Seminole County Public Schools in Sanford, Florida. She has practiced as a speech-language pathologist in school and in-home settings with specialization in autism spectrum disorders, early intervention, classroom- and curriculum-based services, and the impact of social language deficits on educational success. She obtained her bachelor of science in communication disorders and master of science in speech-language pathology at Florida State University with an emphasis in the areas of Autism Spectrum Disorders and Developmental Disabilities through a specialized training program. Tanya holds her doctorate of education degree from the University of Central Florida. She has presented at a variety of local and national conferences on a variety of topics and serves as the ASHA Continuing Education Administrator for Seminole County Public Schools. Tanya has also been a three-time recipient of the Award for Continuing Education (ACE) from ASHA and previously served on the CEB from 2016–2018.
Diana Christiana, MA CCC-SLP
Diana Christiana is the founder and CEO of Clinical Communication Consultants, Inc. (1991) and Clinical Communications, LP (1999) in Houston, Texas. The companies provide consulting, private practice services, and temporary staffing to healthcare systems, schools, corporations, and the Department of Labor in the speech-language pathology and audiology communities. Through these vast clinical and business relationships she has gained a unique insight on regulations and ethical challenges. As a pioneer in telepractice Diana was appointed to the ad Hoc Committee on Telepractice in Speech-Language Pathology. She served on the development team for petition to develop SIG 18 and served on the education committee, the ASHA Convention programming committee (telepractice) and on the Pearson Speech-Language Pathology Advisory Board (telepractice). She continues to present on telehealth at the local, university, state and national levels. Additionally, Diana enjoys and has extensive experience with peer review assignments. Clinically, her area of expertise is working with adult clients with speech-language and cognitive challenges and advocates for equal access to speech-language pathology and audiology services across the lifespan.
Debra Cowley, PhD, CCC-Aud
Debra is the Continuing Education Manager for Starkey Laboratories, Inc. in Eden Prairie, MN. Her role necessitates familiarity with best practices in adult learning and with the rules and regulations around continuing education at the state, national, and international levels. She has presented at a variety of national and international conferences on a
variety of topics related to hearing loss, amplification, hearing aid fitting, and counseling. Debra has practiced as an audiologist and educational consultant in school settings with specialization in elementary and deaf education curriculum support. Debra obtained her bachelor of arts in elementary and deaf education at Augustana College in Sioux Falls, SD and master of arts in audiology at the University of South Dakota in Vermillion, SD. Debra holds her doctorate of audiology degree from Arizona School of Health Sciences. Debra is on the ASHA Intersections Advisory Group and has been a fivetime recipient of the Award for Continuing Education (ACE) from ASHA.
Margaret Pierce, MA, CCC-SLP
Margaret Pierce graduated with a bachelor's degree in communication sciences and disorders with a double major in child development and family relations and a minor in disability studies, from the University of Maine in 2016. She graduated with her master's degree in communication sciences and disorders from the University of Maine in 2018. She has been working for a special purpose school serving children from preschool through high school. During undergraduate studies she served as a research assistant and as a teaching/research assistant during graduate school. She participated in the Minority Student Leadership Program (MSLP) in 2015. She received the PROGENY award in 2015. She has presented posters and a session at ASHA from 2015–2017. She continued her involvement in the National Student Speech Language Hearing Association (NSSLHA) as the Vice President for Student State Officers--SLP from 2016-2018. She was a trainee for the Leadership Education in Neurodevelopmental and Related Disabilities (LEND) in 2016–2017. She is a member of the Native American Caucus.
Raul Prezas, PhD, CCC-SLP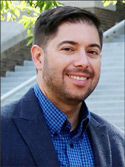 Raul is a professor in the Department of Speech-Language Pathology at Nova Southeastern University in Fort Lauderdale, Florida. He has several years of clinical experience in the university, public school, and home health settings; particularly working with culturally and linguistically diverse populations. His interests include speech disorders, phonological development, bilingual/multicultural assessment/treatment, working with children with highly unintelligible speech, phonological treatment models/outcomes, school-based issues, working with underrepresented students, and epistemological beliefs. In addition to publications in several journals, including the American Journal of Speech-Language Pathology, he has written several book chapters and articles related to his interest areas. Currently, he serves on the editorial board of the Journal of Human Services: Training, Research, and Practice, a multidisciplinary journal. He also is a member of the Communication Disorders Field of Study Advisory Committee in the state of Texas. Dr. Prezas is driven by multicultural issues and has spent several years as an active member of the Texas Speech-Language-Hearing Association (TSHA). He has previously served on the TSHA Executive Council as co-chair of the Cultural and Linguistic Diversity Committee. A former recipient of the ASHA Minority Student Leadership Award (Class of 2006), Dr. Prezas also is a previous member of ASHA's Committee on Leadership Cultivation, has served as a mentor for ASHA's S.T.E.P. Program, and has served as a member and topic chair for ASHA's Speech Sound Disorders Program Committee for the ASHA Convention.
.
Joanne Slater, AuD, CCC-A

Joanne is the Director of Continuing Education Administration for Continued, a provider of online learning. continued provides online continuing education in multiple professions (audiology, speech-language pathology, physical therapy, occupational therapy, and early childhood education); its family of websites includes AudiologyOnline and SpeechPathology.com. Dr. Slater spent the early part of her career as a clinical audiologist at the department of Otolaryngology–Head and Neck Surgery, St. Louis University Health Sciences Center, performing a wide variety of diagnostic procedures and dispensing hearing aids. During that time, she was an active member of the Missouri Academy of Audiology and an adjunct instructor at Washington University's Central Institute for the Deaf. In her current role since 2004, Dr. Slater contributes to the professions of audiology and speech-language pathology at large through the development and delivery of online continuing education. Her role necessitates familiarity with best practices in continuing education and with the rules and regulations around continuing education in multiple professions at the state, national, and international levels.
Katie Strong, PhD, CCC-SLP
Katie Strong is an assistant professor at Central Michigan University's Department of Communication Sciences and Disorders where she leads the Strong Story Lab. Katie received her PhD in Interdisciplinary Health Sciences from Western Michigan University in 2015. Her research explores how speech-language pathologists can support people with aphasia rebuild their identity and improve their quality of life by co-constructing stories about who they are and will be. Katie is a 2019 Tavistock Distinguished Aphasia Scholar. She is a founding member of the Lansing Area Aphasia Support Group. Katie currently serves as a regional director for A Bigger BRIDGE, a PCORI funded project dedicated to helping those with communication disabilities engage in research that is about them. Katie is a former treasurer for the Council of Academic Programs in Communication Sciences and Disorders (CAPCSD). She is also a regular host of the Aphasia Access Conversations Podcast. Find more about her work at Strong Story Lab.
Ed Strugalla, MHS, CCC-SLP
Ed is a graduate of North Central College (BA, Sociology & Anthropology) and Governors State University (BHS & MHS, Communication Disorders). He completed a master's thesis on partnering with parents in pediatric feeding and swallowing and was presented as a poster at the ASHA convention. Ed is the Director of Clinical Services at Therapy Care, Ltd. in Batavia, Illinois and serves on the advisory board for Governors State University's Communication Disorder Department. He oversees all clinical operations at Therapy Care's outpatient clinic (SLP, OT, PT), supervises and mentors all clinicians in the company, and has been the mentor for several clinical fellows. Ed has several years of diverse experience working in schools (PreK – high school, second language learners), hospitals, home health, early intervention, and outpatient. He treats both pediatrics and adults. He conducted research and co-authored "Therapeutic Use of Personal Electronic Devices: An Updated Survey of Speech-Language Pathologists" in the eHearsay Journal of the Ohio Speech-Language-Hearing Association, Fall 2013. Ed also conducted research and co-authored Chapter 10 in the book "Stuttering Meets Stereotype, Stigma and Discrimination" by Kenneth O. St. Louis, West Virginia University Books, March 2015. Chapter 10: Recognizing Positive Aspects of Stuttering: A Survey of the General Public. Ed has provided several in-services and workshops at Chicago area public schools on the topics of deaf and hard of hearing, stuttering, and bilingual evaluation and treatment.
Anu Subramanian, PhD, CCC-SLP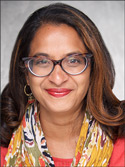 Anu is a clinical associate professor and director of clinical education at the department of Communication Sciences and Disorders at the University of Iowa. She supervises graduate students in stuttering (across the age span) and pediatric clinical placements, including early intervention. She teaches classes in Counseling, Supervision, and Foundations of Clinical Practice. Her interests are in early intervention, stuttering, and clinical education. She is an alumni of the CAPCSD Leadership Academy from 2019 and serves on the coordinating committee for SIG 11.