May 2017
Harvey Abrams
Introduction
We are living in interesting times. I suspect many of us are feeling under siege from a number of fronts: the growing availability of hearing aids through large retailers like Costco, the trend toward retail-owned practices, the increasing availability of personal sound amplification products (PSAPs), the deep discounts offered by hearing aid benefit programs. And, most notably, the recent interest by several government and quasi-government agencies in issues associated with the accessibility and affordability of hearing aids. I suggest that, despite (and, perhaps, as a result of) these challenges, we are facing an unparalleled opportunity to make our profession more relevant and vital than ever. To do so, however, will require a change to the way we practice and, in particular, an examination of our relationship with the hearing aid—the primary product and revenue producer at the center of many of our practices.
Professor Bruce Greenwald of Columbia University's Graduate School of Business is quoted as saying, "In the long run, everything is a toaster," meaning that, in time, an innovative product loses its unique competitive properties and becomes a commodity—part of a group of products that are interchangeable with one another. We need to ask ourselves if hearing aids—and, more important, our clinical practices—have become commodities. Are these devices at the center of our practice? Are the services that we provide becoming indistinguishable from and interchangeable with not only those of our competitors but also with direct-to-consumer products that minimize or eliminate the need for our services at all?
Many will argue convincingly that what we do is not a commodity. That we provide essential and personal services and products to a community of patients who benefit substantially from our expertise, knowledge, and skills. Unfortunately, individuals and agencies that influence health care policy in this country are not convinced.
President's Council of Advisors on Science and Technology (PCAST)
PCASTcomprises a group of scientists who advise the President of the United States in the areas of science and technology. PCAST has focused much of its recent attention on issues related to aging and technology, and their study and subsequent report on the affordability of hearing aids [PDF] (PCAST, 2015) was one part of this larger perspective—one they felt was particularly timely. PCAST identified several significant barriers to the acquisition of hearing aids—the most important, according to the report, being cost. Other identified barriers include the absence of adequate insurance coverage, the bundling of products and services, state regulations related to the sale of hearing aids, the "stigma effect," inadequate consumer awareness, and the lack of engagement and support by primary caregivers. PCAST's recommendations (see Table 1) are designed to have a positive effect on cost, technology, and innovation. The Council concluded that the consequences of untreated hearing loss resulting from the aforementioned barriers pose a greater risk to the American public than do serious medical problems that would go unidentified in the absence of medical or audiologic examinations. The Council claimed that access to "cheap hearing technology" should be made available in the same way that inexpensive reading glasses are made available to individuals who need them. To that end, PCAST recommended that the U.S. Food and Drug Administration (FDA) create a new designation of hearing technology called "basic hearing aids" for adults with mild-to-moderate hearing loss; these "basic hearing aids" would be subject to a different oversight regimen than existing "non-basic" hearing aids. The associations representing audiologists, hearing instrument specialists, and manufacturers (ASHA, AAA, ADA, HIA) [PDF] were quick to respond.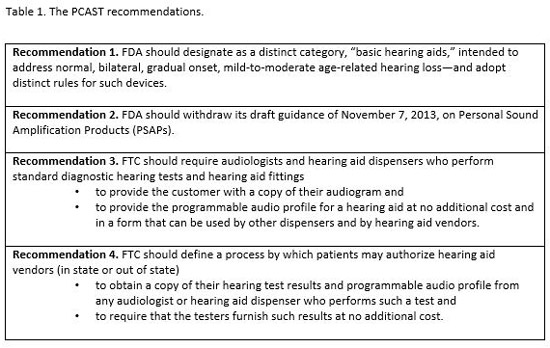 FDA
FDA ensures the safety and efficacy of a massive number of products, including medical devices. Hearing aids are considered medical devices and are subject to a number of regulations designed to ensure their safety and effectiveness. Given the proliferation of unregulated PSAPs in the marketplace—and growing confusion among professionals, consumers, and industry professionals concerning the appropriate use of these devices and their relationship to regulated hearing aids—FDA responded by publishing draft guidance (FDA, 2009) to help the industry and FDA staff better define the applicable legal requirements under the Federal Food, Drug, and Cosmetic Act (FD&C Act, 2016) for hearing aids and PSAPs. The draft guidance identifies the current legal definition of the term hearing aidsand the classification of these devices under current federal law; the draft guidance also defines PSAPs as they are currently used. It is important to note that FDA distinguished between the two by stating that PSAPs, unlike hearing aids, are not intended to compensate for hearing impairment or to address listening situations that are typically associated with and indicative of hearing loss. The draft guidance concludes with the following statement:
"Because PSAPs are not intended to diagnose, treat, cure, or mitigate disease and do not alter the structure or function of the body, they are not devices as defined in the FD&C Act. As such, there is no regulatory classification, product code, or definition for these products. Furthermore, there are no requirements for registration of manufacturers or listing of these products with FDA." (FDA, 2009, p. 6)
What FDA appears to be saying is that the agency has no regulatory authority concerning the use of PSAPS, as PSAPs are not medical devices.
The question of PSAPs was just one of several issues that became intertwined with the larger concern about affordability and accessibility. For example, there was interest in examining the requirement for medical clearance (or a waiver) prior to purchasing hearing aids—a provision with assumed negative impacts on accessibility and affordability. In response to these issues, FDA held a public workshop on April 21, 2016, to discuss the appropriate level of good manufacturing practices (GMPs) relative to hearing aids. That meeting became yet another opportunity to discuss the emerging issue taking shape regarding over-the-counter (OTC) devices and the requirement for medical clearance.
National Academies of Science, Engineering, and Medicine (NASEM)
In early 2015, NASEM convened an expert panel of academics, health care policy experts, and consumer representatives to examine the issue of accessibility and affordability of hearing health care for adults. The formation of the committee was in response to the findings of a National Institute on Deafness and Other Communication Disorders (NIDCD) working group on accessible and affordable hearing health care for adults with mild-to-moderate hearing loss (Donahue, Dubno, & Beck, 2010). The activities of the Committee on Accessible and Affordable Hearing Health Care for Adults were sponsored by the following agencies and organizations:
The committee met publicly five times over a 1-year period, culminating in a comprehensive report that was published in June 2016. A summary brief, as well as the 379-page comprehensive report and other supporting documents, can be downloaded from NASEM's website. The primary objectives of the panel were to examine the existing regulatory climate associated with hearing health care, to address the affordability of that care, and to determine whether current processes associated with the access to hearing health care could be improved. The committee came to the following three conclusions:
Hearing is vital to communication, health, function, and quality of life and that individuals need to be alert to their hearing health.
Hearing health care involves a wide range of services and technologies with ever-expanding and evolving options; however, many people do not have access to these options or cannot afford them.
Hearing loss is a public health and societal concern; engagement and action are needed across the continuum of relevant stakeholders, including individuals and families, professionals, nonprofit organizations, industries, government, and the health care community.
In addition to these general findings, the committee recommended 12 specific actions (see Table 2). The specific details associated with each of these actions can be found in the complete report. Few audiologists would have any argument with most of the committee's recommendations; however, two of these recommendations warrant further discussion. Recommendation #3, Remove FDA's regulation for medical evaluation or waiver of that evaluation prior to hearing aid purchase, is likely welcome news for most audiologists. Many years of clinical experience suggest that such an evaluation is of little value, given that audiologists will almost certainly discover any condition requiring medical referral at the time of their evaluation. It could be argued that the requirement for a medical evaluation imposes an accessibility barrier for the patient that is far greater than any risk of an undiagnosed otologic condition. In fact, at the dissemination meeting of the Committee on Accessible and Affordable Hearing Health Care for Adults held on December 7, 2016, FDA announced that, "effective immediately," they would no longer enforce the requirement that individuals 18 and older receive a medical evaluation or sign a waiver prior to purchasing most hearing aids.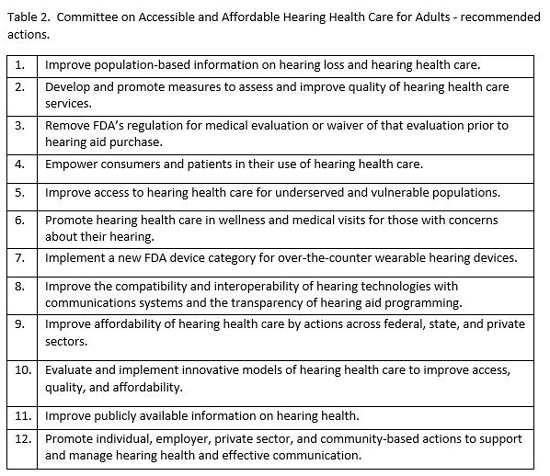 Recommendation #7, Implement a new FDA device category for over-the-counter wearable hearing devices, represents a contentious issue for the audiology community. Both PCAST and NASEM support the position that FDA should create a new, separate class of hearing aids—enabling consumers to purchase the devices directly and without professional involvement.
At about this time, Senators Elizabeth Warren (D-MA) and Chuck Grassley (R-IA) introduced the Over-the-Counter Act of 2016 (which has since been reintroduced as the Over-the-Counter Hearing Aid Act of 2017) to allow for the availability of OTC hearing aids without the "supervision, prescription, or other order, involvement, or intervention of a licensed person." A companion bill with bipartisan support and similar language was introduced in the House of Representatives.
What Do Our Patients Say?
We've heard from PCAST, FDA, NASEM, and the U.S. Senate as well as from the professional and trade associations concerning recommendations designed to improve the hearing health of our adult citizens. But what are those citizens—our patients—saying about the products and services they are receiving in the current hearing health care environment? The results from the latest MarkeTrak survey (MT9; Abrams & Kihm, 2015) provide survey data from more than 1,000 hearing aid owners and 2,000 nonowners concerning perceived barriers and benefits associated with hearing health care. The high-level view of MT9 reveals a reported hearing difficulty rate of 10.6% and hearing aid ownership of 3.2% of the sampled population. This equates to a hearing aid adoption rate of approximately 32%—a rate comparable to that of several European nations who provide hearing aids through their national health care system (see Figure 1). Applying MT9 to the affordability and accessibility issues, it appears that among those with mild-to-moderate hearing difficulty, the primary barrier to purchasing hearing aids is not cost but, rather, the person's perception that they hear "well enough" in most situations. For those with more severe difficulty, affordability appears to be the primary barrier.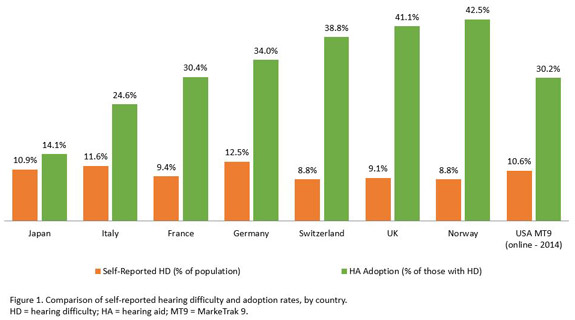 In terms of perceived quality of service, MT9 data suggest a very high level of satisfaction with hearing health care providers—87% of nonowners and 95% of hearing aid owners reported being satisfied or very satisfied with their provider. The factors that appear to most influence satisfaction with the provider among both hearing aid owners and nonowners were the quality of service during the fitting and after the purchase. The MT9 data also suggest high levels of satisfaction with hearing aids themselves, with satisfaction increasing as a function of how recently the purchase was made. Those who purchased their hearing aids in the prior year, for example, reported a 91% satisfaction rating. As Figure 2 illustrates, the satisfaction rate in the United States compares very favorably with countries in Europe, which is particularly striking when we consider that, in many of these countries, hearing aids are either highly subsidized or provided at no cost.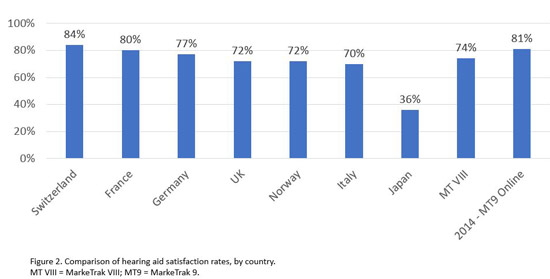 Reconciling Third Person Versus First Person Perceptions
How is it, then, that there appears to be such a discrepancy between how PCAST and our patients perceive the hearing health care landscape? Certainly, PCAST and NASEM were responding to consumer complaints concerning the cost of hearing aids, the lack of adequate third party coverage, the difficulty obtaining comparative information due to the bundling of costs, the confusion concerning the different professionals who provide hearing aids, and so forth. What the MT9 data suggest, however, is that once the patient has successfully negotiated the system, they are very satisfied with the services and products that they receive. Recall that the factor most influencing their satisfaction is the quality of services that they receive during the fitting and after the purchase. In other words, our patients value our commitment to a set of practices that clearly separate the product from the services we provide. In fact, a recent study by Humes et al. (2017) comparing an audiology best practices service delivery model to a consumer-decides OTC delivery model revealed that, although four of five measured outcomes did not differ statistically between the two models, the audiology best practices model resulted in higher satisfaction and a higher percentage of respondents likely to purchase hearing aids after the trial.
Ten Best Practices
Indeed, implementing audiology best practices (see, e.g., Valente et al., 2006) may be our most effective counter to the threat of OTC devices. Engaging in best practices creates an emotional connection with our patients that says, "We are more than the product." The following list represents 10 best practices that most clinicians can employ starting tomorrow. These practices, described in more detail in Table 3 [PDF], are designed to place the emphasis on the services—not the products—that we provide in an attempt to avoid commoditization and encourage the patient to value what we do as a professional.
Develop a comprehensive treatment plan.

Use a patient-focused "income" measure.

Use meaningful clinical tests.

Establish patient-specific treatment goals.

Select hearing aid features on the basis of the treatment goals, not the audiogram.

Verify the hearing aid performance parameters with test box and probe microphone measures.

Validate your treatment plan.

Evaluate for and prescribe hearing assistive technology, as appropriate.

Itemize your fees.

Provide postfitting audiologic rehabilitation services.
Conclusion
These are undoubtedly challenging times for our profession. Many of these challenges are of our own making—specifically, a focus on the product, a resistance to best practices such as real ear verification and postfitting rehabilitation, and a reluctance to itemize our fees. The good news is that all the tools we need to meet these challenges are at hand; we need not reinvent the wheel. We simply need to use the tools that are readily available to us—those that highlight our training, knowledge, skills, and the professional services we provide daily that make a difference in our patients' quality of life.
About the Author
Harvey Abrams has served in a number of academic, clinical, research, and administrative capacities with the Department of Veterans Affairs, the Department of Defense, academia, and private industry. He has held the following positions: Chief of the Audiology and Speech Pathology Service and Associate Chief of Staff for Research and Development at the Bay Pines VA Healthcare System; Director of Research at the Army Audiology and Speech Center at Walter Reed Army Medical Center; and Director of Audiology Research at Starkey Hearing Technologies. He currently serves as a Senior Research Consultant to Starkey Hearing Industries, the Hearing Industries Association, and the Better Hearing Institute. He received his undergraduate degree from The George Washington University and his master's and doctoral training in audiology and hearing science at the University of Florida. He is a frequent lecturer on the topics of outcome measures, health-related quality of life, professional issues, and evidence-based audiologic practice. His research has focused on treatment efficacy and improved quality of life associated with audiologic intervention.
References
Abrams, H. B., & Kihm, J. (2015). An introduction to MarkeTrak 9: A new baseline for the hearing aid market. Hearing Review, 22(6), 16.
Donahue, A., Dubno, J. R., & Beck, L. (2010). Accessible and affordable hearing health care for adults with mild to moderate hearing loss [Guest Editorial]. Ear and Hearing, 31, 2–6.
Federal Food, Drug, and Cosmetic Act. December 13, 2016. Retrieved from https://legcounsel.house.gov/Comps/Federal%20Food,%20Drug,%20And%20Cosmetic%20Act.pdf [PDF].
Food and Drug Administration. Guidance for Industry and FDA Staff: Regulatory Requirements for Hearing Aid Devices and Personal Sound Amplification Products. February 25, 2009. Retrieved from https://www.fda.gov/downloads/MedicalDevices/DeviceRegulationandGuidance/GuidanceDocuments/ucm127091.pdf [PDF].
Humes, L. E., Rogers, S. E., Quigley, T. M., Main, A. K., Kinney, D. L. & Herring, C. (2017). The effects of service-delivery model and purchase price on hearing-aid outcomes in older adults: A randomized double-blind placebo-controlled clinical trial. American Journal of Audiology, 26, 53–79. doi:10.1044/2017_AJA-16-0111.
Kochkin, S. (2010). MarkeTrak VIII: consumer satisfaction with hearing aids is slowly increasing. Hearing Journal, 63, 19-32.
National Academies of Sciences, Engineering, and Medicine. (2016). Hearing health care for adults:Priorities for Improving access and affordability. Washington, DC: The National Academies Press.
President's Council of Advisors on Science and Technology. October, 2015. Retrieved from https://obamawhitehouse.archives.gov/sites/default/files/microsites/ostp/PCAST/pcast_hearing_tech_letterreport_final3.pdf [PDF].
Valente, M., Abrams, H., Benson, D., Chisolm, T., Citron, D., Hampton, D., ... Sweetow, R. (2006).Guidelines for the audiologic management of adult hearing impairment. Reston, VA: American Academy of Audiology.