ASHA Approved CE Provider Insignia
Finding an ASHA Approved CE Provider is easy! Look for this insignia. It identifies those provider organizations that have met the ASHA Continuing Education Board's rigorous standards. It also signifies that provider's affiliation with ASHA. Look for the insignia on CE promotional materials to help you find a provider that administers high-caliber CE courses for audiologists and speech-language pathologists.

or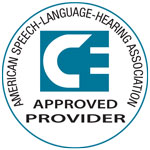 ASHA Continuing Education (CE) Providers offer quality courses that address current and future professional trends. ASHA Continuing Education makes it easy to find those courses. Use ASHA CEFind on the ASHA website to find courses on a specific topic. You can also find courses by date, location, and keyword. For helpful tips on selecting a course, read Guidelines for Evaluating a Continuing Education Program.
When you take courses offered by ASHA Approved CE Providers you have the opportunity to earn ASHA CEUs and use those ASHA CEUs to maintain certification, and meet your state licensure and regulatory agencies' CE requirements. The ASHA CEUs you earn through your course participation can be maintained in a permanent, cumulative record through the ASHA CE Registry.
For more information, go to Contact ASHA CE or call the ASHA CE Registry at 301-296-8591.