Update on ASHA and Member Responses to COVID-19
Overview
Given the rapid evolution of events in recent weeks related to the coronavirus, and the extensive disruptions associated with it worldwide, I wanted to share with you what ASHA is doing, and what members across our professions are saying, doing, and looking for during this pandemic. Even as ASHA's official member count increased to a total of 211,000 members and affiliates as of year-end 2019, we know that many of those members are on the health care front lines serving patients, carrying on to the extent possible via telepractice, furloughed, reduced to working part-time, or otherwise experiencing compromised career and work options—some of which are creating incredible hardship for audiologists, SLPs, and patients/clients/students alike. ASHA's pledge is to provide as much value as possible, to ease the burdens that we can, maintain operations, and to serve as a platform for community, professional information, and support among colleagues.
What Is ASHA Doing?
As ASHA has pivoted to continue to carry out our fundamental mission of serving members, staff are working around the clock on a completely remote basis to highlight existing and develop new resources and information based on recognized needs and input from (thousands) of calls from members to the Action Center and various ASHA staff and units for technical assistance.
Here is a brief compilation of ASHA's COVID-19–related actions to date:
Free Access to ASHA Learning Pass (ALP) for ASHA Members – All ASHA members have been enrolled into the ASHA Learning Pass through June 30, 2020. (Current member subscribers have received a 3-month extension to their subscription.)
Three Town Halls - A Town Hall on SLP Service Delivery Considerations in Health Care During COVID-19 took place on Wednesday, April 1, from 7:00 to 8:30 p.m. ET. This was the first of a series that discuss unique practice challenges in different settings. A second Town Hall addressing audiology and speech-language pathology services in the schools is planned for April 13; a Town Hall for clinical audiologists on April 14.
Centralized COVID-19 information resource pages on the ASHA website.
UHC, Cigna, and TriCare expanded telepractice coverage and reimbursement in response to ASHA's advocacy efforts (ASHA Headlines post March 27, 2020).
ASHA, AOTA, and APTA advocated jointly to CMS (March 27, 2020) to use its waiver authority to allow Medicare coverage of telehealth to include audiology, OT, PT, and SLP services.
States continue to update laws and regulations for telepractice and temporary practice.
ASHA-supported provisions are included in the CARES Act (Coronavirus Aid, Relief, and Economic Security Act) that was signed into law on March 27, 2020 (ASHA Headlines post March 27, 2020).
ASHA Survey Regarding Members' COVID-19 Needs – sent to all ASHA members, affiliates, and NSSLHA members on March 23.
ASHA Leader Live is posting every weekday over the next 2 weeks to help address members' immediate COVID-19 needs.
The June-July print issue of The ASHA Leader will do in-depth coverage of the ASHA survey results and COVID-19's effects on members across settings. The main feature will look at its impact on education and training of CSD students.
The ASHA Voices March 26 Podcast " How COVID-19 is Changing Our Work Lives" provided a snapshot of experiences across settings. The April 9th episode features " SLPs in Quarantine and a Look at PDPM 6 Months Later."
The May issue of the print Leader will include reminders about asha.org/About/Coronavirus-Updates and the free ASHA Learning Pass.
Updated CFCC Guidance for Graduate Programs, Students, and Clinical Fellows (March 30, 2020).
As a reminder – all ASHA-related travel has been cancelled through (at least) June 30, 2020; and the National Office staff will continue working All Remote through (at least) April 30, 2020.
How Members Are Doing and What the Survey Tells Us About How We Can Help
To best help address member needs during the pandemic, ASHA needed to hear from all the different cohorts of members, including those on the health care front lines, or practicing remotely for the first time, or out of work for a yet to be determined time. The ASHA COVID-19 Tracker Survey was fielded from March 23 through March 29 and sent to all ASHA members, affiliates, and students in our database (n = 211,000) via email. The purpose of the survey was to understand how ASHA could best help address members' current needs and to track changes over the course of this pandemic. A total of 33,975 responses were received, for an approximate response rate of 16.1%. In the three graphs below, data from seven groups are displayed. These groups were sampled to assess the impact of COVID-19 on clinical practice and on academic programs. The graph below shows the number of individuals in each of four of the groups (CSD Faculty, Certified SLPs, Certified Audiologists, and Students). In the subsequent graphs, the four subgroups of students are broken out (Undergraduate, Graduate SLP, Graduate AuD, and Research Doctoral students).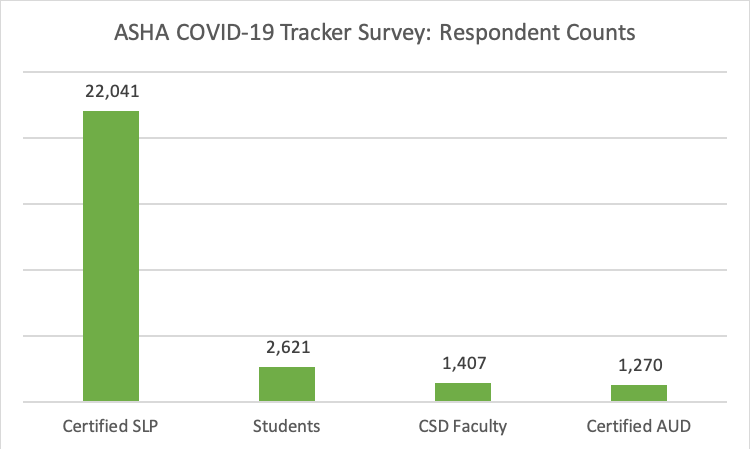 ASHA asked "What impact is the pandemic having on you, personally?" Across the 28,171 respondents who are certified ASHA members, 43.4% indicated that they were experiencing a major impact personally and 44.0% indicated a moderate impact. Responses from the seven constituent groups are shown below.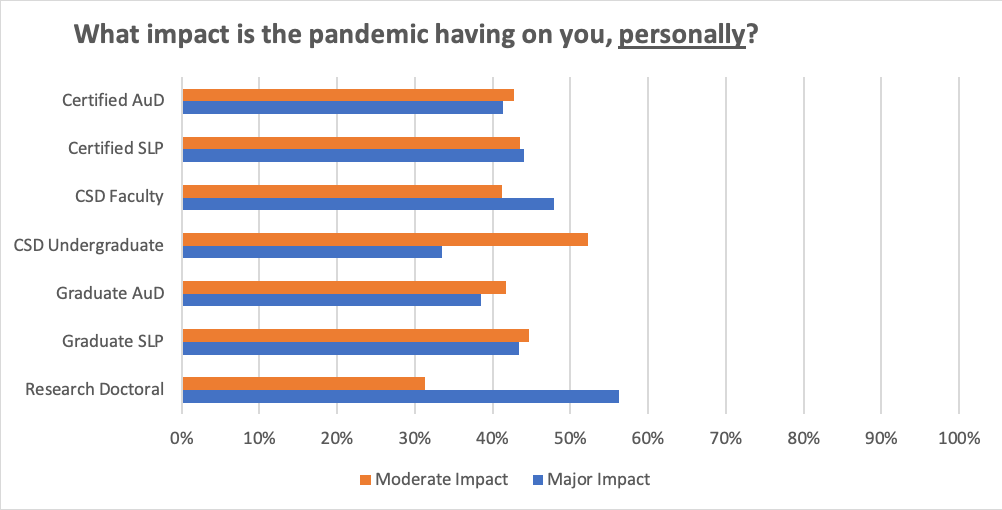 ASHA also asked "What impact is the pandemic having on you, professionally, or academically if you are a student?" Approximately 56.8% of certified ASHA members indicated that they were experiencing a major impact professionally and 23.7% indicated a moderate impact. Responses from several constituent groups are shown below.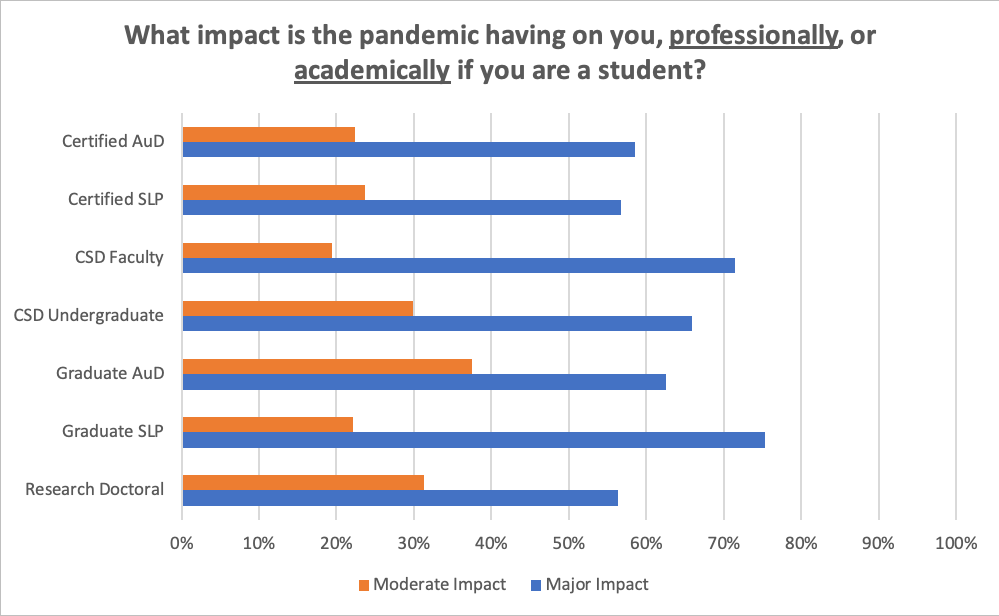 Another similar survey will be fielded again in the beginning of May so that ASHA can track trends and receive updated information about the needs and perceptions of ASHA members, affiliates, and CSD students. In the meantime, ASHA staff are going through the more than 20,000 open-ended responses that were provided to determine what the greatest areas of need are and to look for more ways that ASHA can help. Please respond to the next survey—we want to hear from you!
Also, do keep checking back with us via technical assistance calls, Action Center calls, and the COVID-19 resource pages. ASHA will continue to do all that we can to help you during these unprecedented times.
Please take good care, carry on to the fullest extent that you are able, and stay well.
National Office Staff Updates
New ASHA Staff Since February 2020
Yedashe Belay, CE Provider Manager
Lukas Williams-Padin, HRIS and Benefits Administrator
Micah Colston, Associate Information Analyst
Sneha Shetty, Business Systems Analyst
Yehudah Mehlman, Office Services Specialist
Jula Hesig, Instructional Designer
Staff Who Have Changed Positions
Franklin Boyd, Accounts Receivable Specialist
Individuals Who Have Left to Pursue Other Opportunities
Michelle Cobb-King, Director, Health Care Policy, Private Health Plans Reimbursement
Heather Lewis, Customer Relations Manager, Membership & Sales